The clipboard manager in Windows 10 is built-in. This is a relatively new function that was added to Windows 10 to expand the clipboard's capabilities. Clipboard managers have long been used by Windows users to hold several items in the clipboard. There is always the risk of sensitive data being leaked while using third-party applications, which is why having an onboard solution like the Windows 10 Clipboard History is safer. But some Windows users face issues with the Clipboard History tool and they ask questions on the forum regarding how to fix Windows 10 clipboard history not working problem? Below I have discussed several ways that you can try to fix your clipboard history tool. Let's check them out!
Making sure you fulfill the requirements
Windows 10 clipboard history tool works only on Windows 10 October 2018 release (version 1809) or later. So, if your Windows version is older the tool may not work on your OS. Just have a quick look and check if you have the latest Windows version.
To check which version of Windows you have, search for "Run" in the start menu search bar. Then type "winver" and hit enter. An "About Windows" screen will appear that will have your Windows version mentioned in it.
If you have the required Windows version and still you are you clipboard history is not working then try the below solutions.
Solution 1: Check if Clipboard History is enabled in the Settings option
Clipboard History needs to be enabled in Windows settings for it to work. To enable it or check if it is enabled, you to have to go to the "Settings" option.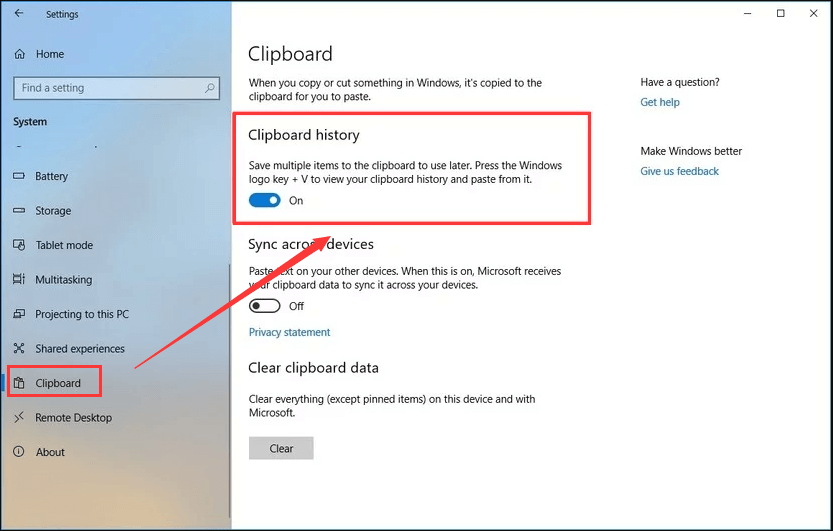 You can search for it in the Windows search box or use the keyboard shortcut Win+I to open the settings option.
Select "System" from the options.
Go to "Clipboard".
Turn on the toggle on the "Clipboard History" section, where you will see the message, "Save multiple items to the clipboard to use later ……".
or
You can also press the keyboard shortcut Win+V to open the clipboard. If you get an error like "Can't show history", press the "Turn on" button below to enable it.
Also see – How to fix video TDR failure blue screen in Windows?
Solution 2: Try restarting Windows Explorer to fix clipboard history not working error
Another simple way to fix Clipboard History not working problem is to restart Windows Explorer. Simply open "Task Manager" using the keys Alt+Ctrl+Del and go down to the "Processes" tab to find Windows Explorer, select it, and then click Restart. Once the Windows Explorer restarts, try using the tool again and see if it works. If it doesn't check out the more solution below.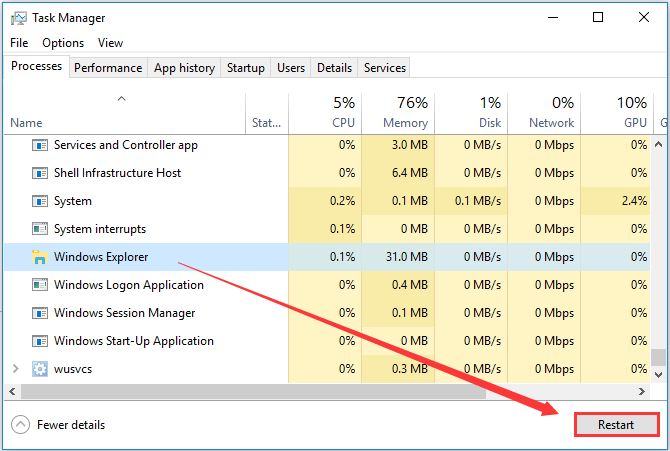 Solution 3: Try signing into your Microsoft account
By signing into your Microsoft Live account you can sync clipboard history across different devices. Signing in, sometimes helps to fix the clipboard problems. Try logging in and see if it helps. Below are the steps on how to sign in to your Microsoft Live account.
Open "Settings", either through the start menu or using the Win+I keyboard shortcut keys.
Select "Account", then choose "Your Info".
On the right-hand side column, above the "Create your Picture" option you'll see an option to log in to your account. Select "Sign in with a Microsoft account instead".
A pop-up will appear asking for your credentials. Enter your credentials and log in.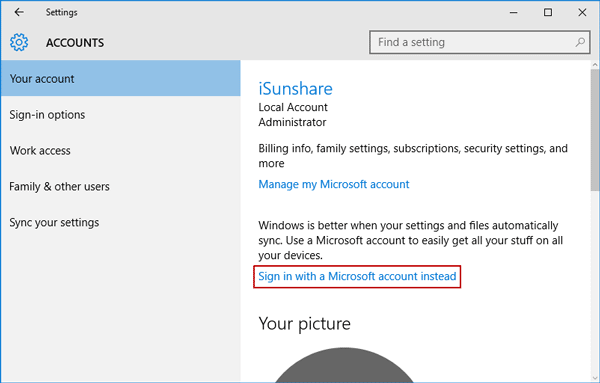 Once you have logged in successfully, go to the clipboard settings, as we did in Solution 1. And turn on the option, "Sync across devices". Then select "Automatically sync text that I copy".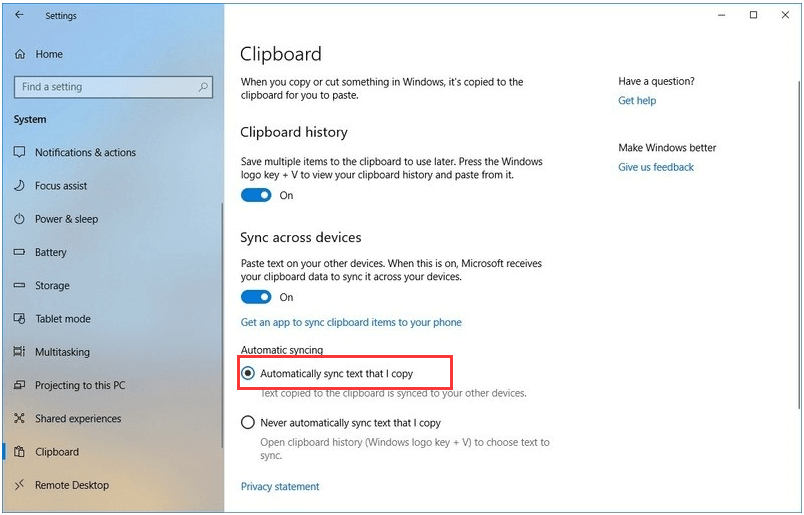 This will integrate your clipboard history across multiple devices. You'll be able to copy text from one computer to another easily. This should fix the clipboard history errors due to syncing issues.
Also see – How to transfer Windows 10 license to a new computer owner?
Solution 4: Use Registry Editor to enable Clipboard History
Clipboard History must be activated from the Windows registry in some cases. It's unclear why this occurs, but at times it is related to the locale you've selected in Windows 10. Hence, if the above solutions don't work you can try to edit the registry to fix the clipboard history not working problem.
Note: Its good to backup registry before editing it. So, that you have a copy in case things go south.
Below are the steps to edit the Windows Registry.
Open the start menu and search for "Run".
Type "regedit" and hit enter to run registry editor.
Select this key from available options: KEY_LOCAL_MACHINE\SOFTWARE\Policies\Microsoft\Windows\System
Search for value "AllowClipboardHistory". If it is not available, you'll have to create it. To do that, right-click on the "System" and select "New"->"DWORD (32-bit) value" from the context menu. Name it "AllowClipboardHistory".
Now double click on "AllowClipboardHistory" and set its value to 1. You will have to write "1" under the "Value data" option and click "OK".
Now close the registry editor and restart your PC.
Also see – How to fix "Windows Preparing automatic repair" boot loop of death?
Solution 5: Change settings in Group Policy Editor
Clipboard history not working error can also be fixed by changing the settings in Group Policy Editor. To do that follow the steps below.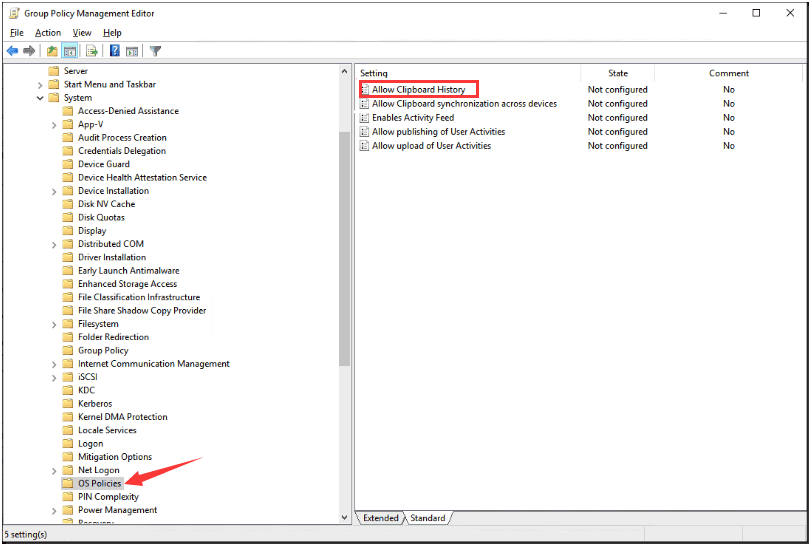 Search for "Run" in the Windows start menu bar and hit enter.
Type "gpedit.msc" and hit "OK" to start the local group policy editor.
Navigate to the following path: Computer Configuration>Administrative Templates>System>OS Policies.
Search for "Allow Clipboard History" on the right-hand side and double click on it.
A pop-up will appear. Click "enable" if the setting is disabled or not configured.
Select "Apply" and click "OK".
Now look for "Allow clipboard synchronization across devices" and double click on it.
Enable it as well and select "OK".
Close the group editor policy settings and restart your computer.
These solutions should able to help you to fix clipboard history not working on Windows 10 problem. Let us know in the comments which solution worked for you or if you were able to find something else that worked. And we will try to include that in our list. And also check out some of the awesome Windows tips and tricks to make the best of your Windows.